Helping You Recover Compensation for Your Injuries & Anguish After an Accident that Wasn't Your Fault.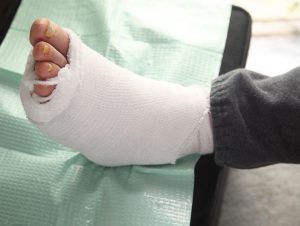 If an Eastern Shore car accident or personal injury has completely interrupted your normal life, you are like many of our clients who stay awake at night wondering: How will I pay my medical bills? How will I make up for lost time at work? Will the insurance companies give me a fair settlement for my injuries? 
We understand that when you have been seriously hurt in an accident, life becomes very complicated.  Hospital and doctor visits are expensive and missing work eats up your paycheck. If you've been injured in an Eastern Shore of Virginia accident, contact our law firm for assistance. We fight for the settlement you deserve while you focus on getting better.
---
Attorney Richard Serpe
For more than 37 years, Virginia personal injury attorney Richard Serpe has helped individuals and families seriously injured due to the negligence of another person, a dangerous product, or company. He has a track record of success in obtaining favorable jury verdicts and settlements for his clients. A large portion of his career has been devoted to the representation of injured children.
Awards and Recognition: Best Lawyers® : (2005 – Present), Super Lawyer : (2006 – Present), Martindale-Hubbell: AV Preeminent Rating, and Avvo.com : Rated 10/10 – "Superb."
---
Why Hire a Virginia Personal Injury Lawyer
Hiring a Virginia personal injury lawyer is a critical decision for anyone who has suffered harm due to the negligence of another party. These legal professionals bring a wealth of expertise and experience to the table, making them invaluable in navigating the complex legal landscape surrounding personal injury claims.
Virginia's specific laws and regulations require a nuanced understanding, and a local attorney is well-versed in these intricacies. Moreover, a personal injury lawyer can help you build a strong case, negotiate with insurance companies, and, if necessary, litigate on your behalf to ensure you receive the compensation you rightfully deserve. They provide peace of mind during a challenging time, advocating for your rights and offering the best chance at a successful resolution to your personal injury claim.
---
Dealing with the Insurance Companies
We strongly advise that you do not speak to any insurance adjusters until you speak with an experienced personal injury attorney. Insurance adjusters are trained to get you to say things that will ruin your case. If you choose our firm, we immediately contact the insurance companies and inform them that they are no longer allowed to contact you. We will take over all communication dealing with insurance. Of course, we do not make any decisions without speaking to you first.
Accepting a Settlement Offer from the Adjuster
When you are recovering from a personal injury, medical bills should be the last thing on your mind. However, inevitably, the medical bills will start coming in.
It is tempting to take the first settlement the insurance company offers you. Especially when medical bills are piling up. Insurance companies will often make low-ball offers within a matter of just a few weeks hoping to quickly settle a claim. But accept that offer and you'll be out of luck if long-term injuries and complications set in. When accepting the check, you'll have to sign a release agreeing that the payment is a "full and final settlement." Sign it, and you'll never again be allowed to ask for more compensation.
---
Compensation & Settlements for Accident Victims
Depending on the specifics of your Eastern Shore accident, victims may be entitled to one or more of the following types of damages:
Medical costs. Whether you need an ambulance ride to a hospital, an emergency life-saving surgery, months of physical therapy– medical bills can add up quickly. Victims should not have to pay for those medical bills out of pocket. We will seek compensation for those bills, as well as any future medical expenses associated with your injury.
Lost wages. If you're hospitalized after your accident, there's a good chance you'll miss work while you recover. That lost income shouldn't be written off – we can fight to recover lost paychecks. Accidents can put people out of work for months, so the loss of income should also be included in your settlement.
Pain and suffering. Long after the physical wounds heal, the emotional pain of an accident can linger. This pain and suffering needs may be included in your settlement.
Punitive damages. Negligent actions often need more than the accident to prevent them from happening again. Punitive damages can motivate the defendant to be safer and mindful of other's safety in the future.
Wrongful death. If your loved one was killed, you're probably grief-stricken and wondering how you'll shoulder medical bills, funeral costs – not to mention the loss of future income for your family. The emotional loss cannot be understated, either. The loss of companionship and affection is irreplaceable. The Virginia wrongful death act allows certain family members to bring a claim for the losses they have suffered from the death of a loved one.
---
STATUTE OF LIMITATIONS (DEADLINES)
Under Virginia law, it is necessary to file a lawsuit within strict deadlines imposed by law. In many cases, Virginia provides for a two-year deadline also known as a Statute of Limitations. However, the circumstances surrounding the situation could affect this deadline. Speak with an experienced personal injury lawyer to protect your rights.
While two years might sound like a long time, the investigation and negotiation phases of a case can be quite lengthy. It is important to give your attorney enough time to gather evidence and build your case. Don't delay, the consultation is free.
---
VIRGINIA PERSONAL INJURY CASES WE HANDLE
If you've been injured, or your loved one has been killed, we will protect your legal rights and fight for the maximum compensation you deserve.
---
Eastern Shore Personal Injury Lawyer
When you put your trust in the Law Offices of Richard J. Serpe, PC, you can rest easy knowing we'll act with your best interests in mind. With open ears and hearts, our team is eager to help you in your hour of need. The Law Offices of Richard J. Serpe, PC has helped victims of accidents for over 37 years. Contact us today for a free consultation. Call or text 757-233-0009 anytime.
Helping victims on the Eastern Shore and all of Virginia: Northampton County: Belle Haven, Cape Charles, Cheriton, Eastville, Exmore, Nassawadox, Oster, and Bayview.  Accomack County: Accomac, Belle Haven, Bloxom, Chincoteague, Hallwood, Keller, Melfa, Onancock, Onley, Painter, Parksley, Saxis, Tangier, and Wachapreague.