Four Things to do Immediately After An Accident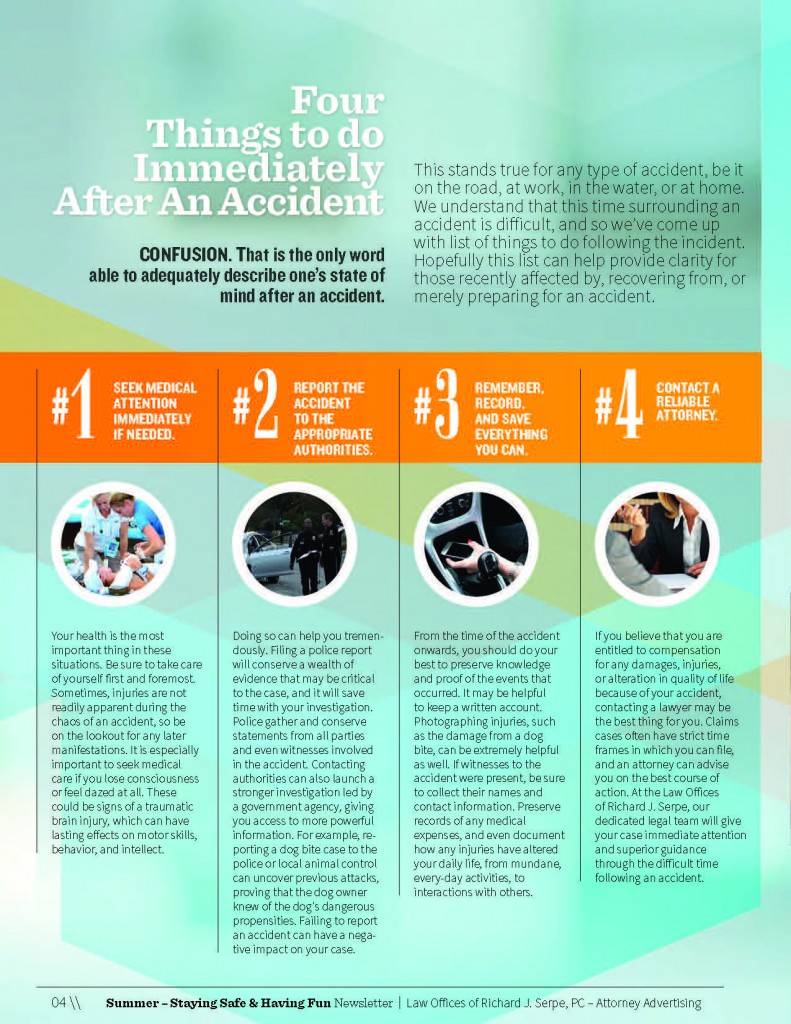 Confusion. That is the only word able to adequately describe one's state of mind after an accident. This stands true for any type of accident, be it on the road, at work, in the water, or at home. We understand that this time surrounding an accident is difficult, and so we've come up with list of things to do following the incident. Hopefully this list can help provide clarity for those recently affected by, recovering from, or merely preparing for an accident.
1. Seek medical attention immediately if needed.
Your health is the most important thing in these situations. Be sure to take care of yourself first and foremost. Sometimes, injuries are not readily apparent during the chaos of an accident, so be on the lookout for any later manifestations. It is especially important to seek medical care if you lose consciousness or feel dazed at all. These could be signs of a traumatic brain injury, which can have lasting effects on motor skills, behavior, and intellect.
2. Report the accident to the appropriate authorities.
Doing so can help you tremendously. Filing a police report will conserve a wealth of evidence that may be critical to the case, and it will save time with your investigation. Police gather and conserve statements from all parties and even witnesses involved in the accident. Contacting authorities can also launch a stronger investigation led by a government agency, giving you access to more powerful information. For example, reporting a dog bite case to the police or local animal control can uncover previous attacks, proving that the dog owner new of the dog's dangerous propensities. Failing to report an accident can have a negative impact on your case.
3. Remember, record, and save everything you can.
From the time of the accident onwards, you should do your best to preserve knowledge and proof of the events that occurred. It may be helpful to keep a written account. Photographing injuries, such as the damage from a dog bite, can be extremely helpful as well. If witnesses to the accident were present, be sure to collect their names and contact information. Preserve records of any medical expenses, and even document how any injuries have altered your daily life, from mundane, every-day activities, to interactions with others.
4. Contact a reliable attorney.
If you believe that you are entitled to compensation for any damages, injuries, or alteration in quality of life because of your accident, contacting a lawyer may be the best thing for you. Claims cases often have strict time frames in which you can file, and an attorney can advise you on the best course of action. At the Law Offices of Richard J. Serpe, our dedicated legal team will give your case immediate attention and guidance through the difficult time following an accident.