CPSC Bans Inclined Sleepers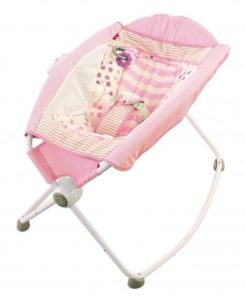 The Consumer Product Safety Commission has voted three to one to pass a new rule requiring products designed for sleeping babies to meet within one year the federal safety standards in place for cribs, bassinets, and play yards. Multiple products currently on the market don't fit into these categories, so they haven't been required to meet such standards. Supporters say the new rule will address a wide range of untested infant sleep products that conflict with federal safe sleep guidelines.
"A Proud Moment for the CPSC"
The Consumer Product Safety Commission chairman Robert Adler noted that this was a "proud moment" for the CPSC. The agency had received countless letters from scientists, doctors, and concerned parents eager to close this dangerous loophole. While some critics argue that the new rule is "overly broad," the safety benefits clearly outweigh them. Inclined sleepers like those offered by Fisher-Price have been controversial since they are designed in direct opposition to federal guidelines saying that babies should sleep on flat surfaces. Since the sleeper was not classified as a crib or bassinet, it was allowed to stay on the market.
Designed Without Safety Testing
A Washington Post investigation into the Fisher-Price sleeper products revealed that it had been invested without medical safety testing or any input from a pediatrician. Additional studies found that the product's angled design was dangerous because it increased the risk of infant suffocation. The agency will now require these sleeper products to comply with existing safety rules.
Dangerous Product Lawyers
Our product liability lawyers can evaluate the facts of your case, answer your questions, and help you determine the most strategic way to proceed. We have an in-depth knowledge of the lawsuits filed against Fisher-Price as well as the case law and statutes pertaining to these cases. We offer free consultations to all prospective clients. To speak with a member of our team, call 877-544-5323 or send us an email.
For more information on recalled sleepers, please visit: CPSC: Safe Sleep – Cribs and Infant Products Info Center