2019 Dog Bite Statistics Reveal Shocking Trend
New data reveals a scary trend in fatal dog bites and attacks. A nonprofit dedicated to reducing the number of dog attacks recently released information gathered on all deadly 2019 incidents. Last year, dogs were involved in 48 fatal attacks. That's the deadliest year on record.
Pit Bulls Responsible for Majority of Attacks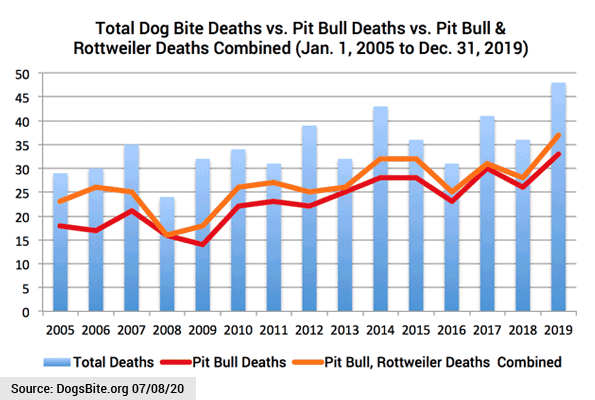 Looking at the big picture is just the beginning. As you begin to zero in on some of the data, certain patterns and trends become evident. One of the biggest takeaways? Pit bulls were involved in 69 percent of fatal dog attacks. Mixed breeds and Rottweilers were also likely to be involved. While no breed is all bad, pit bulls have certainly earned a dangerous reputation over the years.
Adult Victims Outnumber Children 
In previous years, fatal attacks largely involved children. In 2019, on the other hand, adults between the ages of 30 and 39 were the most frequent victims of fatal dog bites. About half of the incidents occurred off of the owners' property. California, Texas and Kentucky were among the deadliest states for such attacks.
Key Takeaways
No single data set can paint a complete, full picture of dog bite fatalities. With that said, the information is certainly disturbing. A majority of the dogs involved in these attacks had histories of violence. Dog owners must take full responsibility for their pets and the damage they do. While animals can indeed be unpredictable, it is up to their owners to do everything in their power to prevent additional violence.
Virginia Dog Bite Lawyer Richard Serpe
Virginia dog bite lawyer Richard Serpe has 34+ years of experience helping victims of personal injuries. We have helped numerous victims to get the compensation they deserve. These clients include children, adults, mail carriers, delivery drivers, joggers, pedestrians, and others. Contact Richard Serpe if you've been attacked by someone else's dog.