Stay Safe on the Water with COVID-19 Boating Tips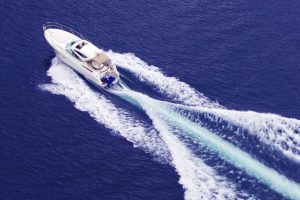 There are few experiences more freeing than coasting along the water in a boat. Given the uncertain times we're living in, it's more important than ever to blow off steam and relax with your loved ones. While a day on the open ocean can indeed relieve stress, it's crucial to continue social distancing as you relax. Here are a few ways to maintain safe habits while enjoying a day on the water:
Limit the Size of Your Group
Officials recommend keeping your boating group to a minimum this summer. As COVID-19 continues to spread, it's important to limit your social activities to your household members and a few close friends. This applies to boating just as much as it does for your other daily activities. Stick with the social distancing efforts you've already been abiding by.
Maintain Your Distance
While on the dock or at the marina, take care to maintain at least six feet of space from other parties. Wear a mask when you know you'll be going inside or interacting with strangers. Be mindful of what you're touching, too. Use hand sanitizer any time you touch fuel pumps at the marina.
Plan Ahead
Many marina restaurants and shops remain closed amidst the spread of COVID-19. With that in mind, be sure to pack plenty of food and drinks before you head out for the day. You might not have another chance to pick up supplies along the way.
Avoid Rafting Up
Tying boats together for an impromptu party is always fun, but given the current state of the world, it's not a good idea right now. Save your plans for rafting up for summer 2021!
Virginia Maritime and Boat Accident Lawyer
The Law Offices of Richard J. Serpe, PC is here to help you and your family. Richard Serpe has a Masters Degree (LLM) in maritime law from Tulane University School of Law and has obtained the highest ranking (Proctor) from the Maritime Law Association of the United States. Richard Serpe has years of experiences protecting the rights of the injured. If you have been injured in a boating accident, you may need an experienced maritime injury lawyer. Contact us for a free consultation 877-544-5323.